Are you considering LASIK eye surgery? Choosing the right LASIK provider is a crucial first step. While the following criteria are what LASIK.com suggests as important considerations, please remember that the best way to determine if a center is right for you is to schedule a consultation. During this consultation, you can discuss your specific needs, ask questions, and gain a personalized understanding of the care you'll receive.
In this guide, we'll explore five essential criteria that LASIK.com recommends you consider when evaluating LASIK providers: affordability, a superior experience, advanced technology, lifetime assurance, and LASIK-only specialization. These criteria can serve as a valuable starting point on your journey toward visual clarity and freedom.
Affordability: Clear Pricing and a Commitment to Affordability

Affordability is a primary concern for many considering LASIK surgery. The best LASIK providers are transparent about their pricing and offer a commitment to affordability. Seek clinics that provide comprehensive information about costs upfront, with no hidden fees. Some top providers offer financing options to help make LASIK more accessible, ensuring that you can enjoy life with clearer vision without breaking the bank.

Superior Experience: Over 100 5-Star Reviews and Over 10,000 Procedures Performed

A provider's track record speaks volumes about their expertise and the quality of care they offer. Look for LASIK clinics with a proven record of excellence. Providers with over 10,000 procedures performed and a multitude of 5-star reviews are likely to offer a superior experience. The positive testimonials from satisfied patients can provide valuable insights into what you can expect from a given provider.

Advanced Technology: WaveLight® LASIK Technology for Modern and Customized LASIK

The technology used during LASIK surgery is a crucial aspect of achieving optimal results. Top LASIK providers invest in advanced equipment to ensure that you receive the most modern and customized LASIK treatment available. One such advanced technology is WaveLight® LASIK, which provides precision and accuracy during the procedure. Modern technology ensures that your LASIK experience is not only effective but also as comfortable and convenient as possible.

Lifetime Assurance: Lifetime Guarantee on Any Enhancements if Your Vision Changes

Choosing a LASIK provider that offers a lifetime guarantee on enhancements in case your vision changes is a prudent decision. While LASIK is highly effective, it's important to have peace of mind knowing that if your vision changes over time you can qualify for touchup's and enhancements. Lifetime assurance shows a provider's commitment to your long-term visual health and satisfaction.

LASIK-Only Specialized: Laser Eye Surgery Focused Organization with a Specialty in LASIK

Opting for a LASIK-only specialized provider is our recommended choice. These organizations are dedicated to laser eye surgery and have honed their expertise. Such providers are often more attuned to the nuances of LASIK and can offer personalized care tailored to your specific needs. Their singular focus on LASIK often sets them apart.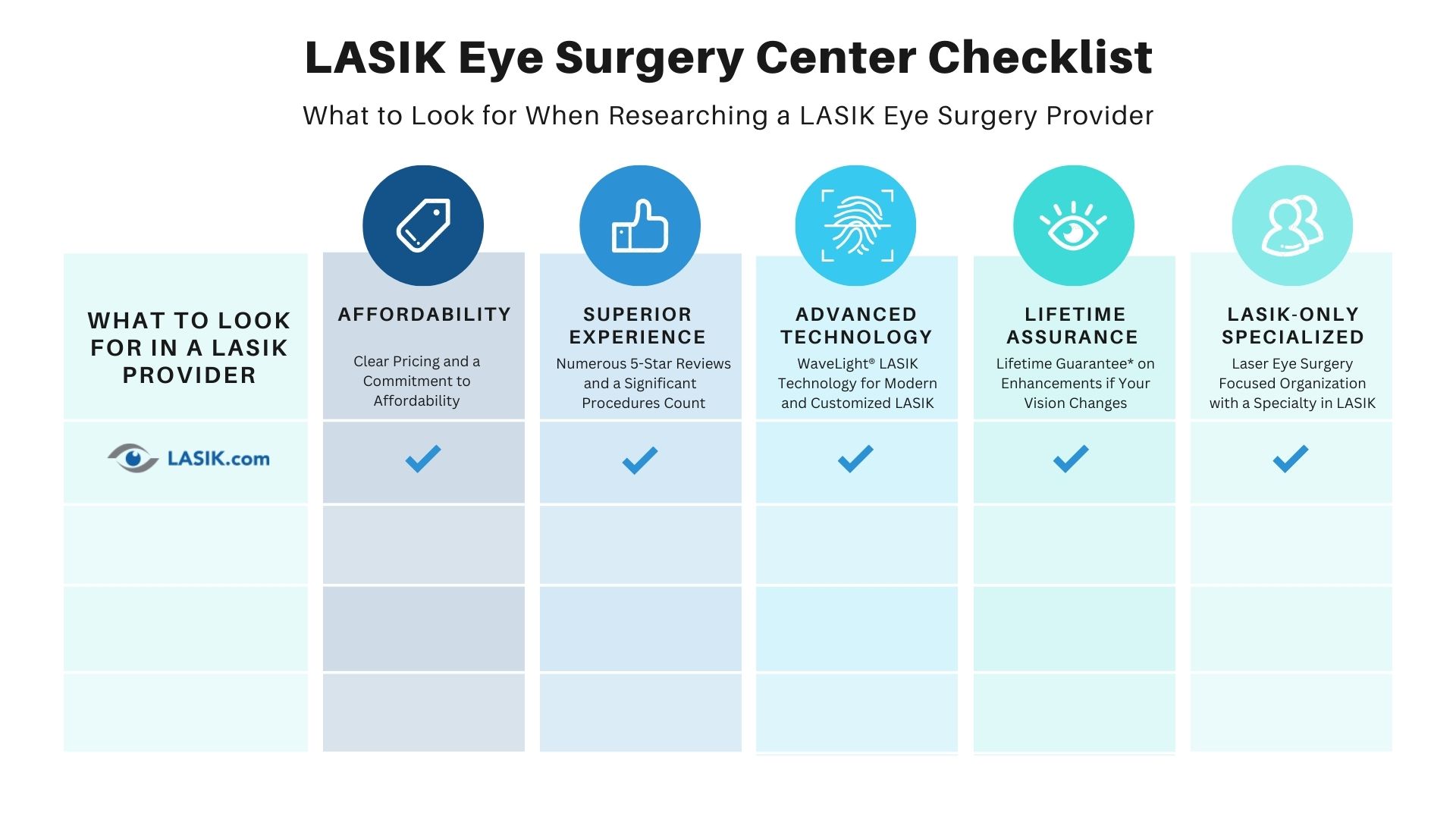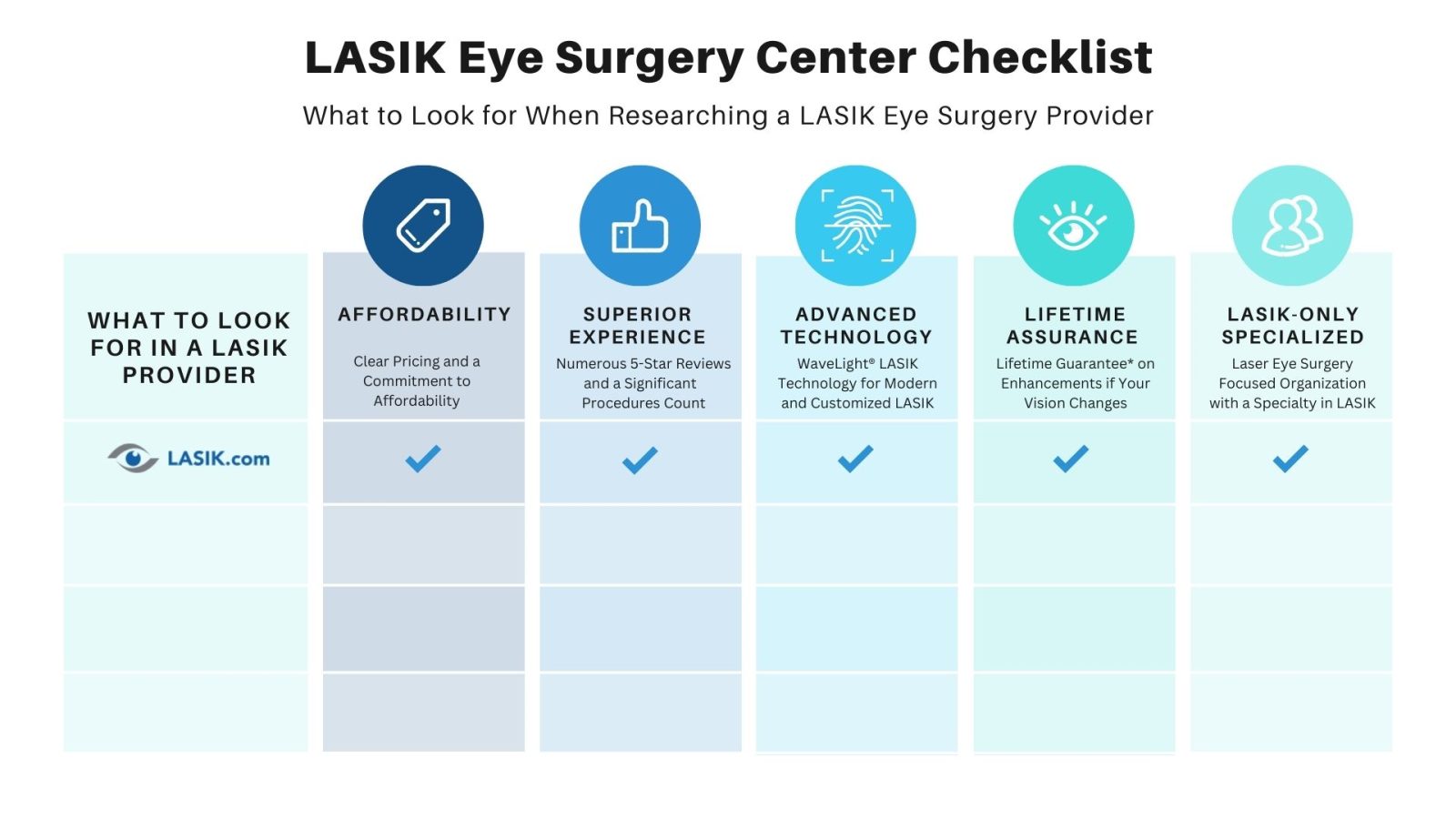 Conclusion
In your quest to find the best LASIK eye surgery provider, it's crucial to consider affordability, superior experience, advanced technology, lifetime assurance, and LASIK-only specialization. These criteria will help you make an informed decision and ensure that you receive top-notch care. By carefully evaluating and selecting a LASIK provider that excels in these areas, you'll be one step closer to experiencing the world with clearer, sharper vision.